The Book Prophet did this tag a very, very long time ago. However, we really liked it and decided that we ought to do it since we both love Stranger Things. It's a show we watched together, although we haven't written about it on the blog.
This tag was originally created by A Running Commentary, which I don't have a link to, but you've been given credit. The graphics I'll be using were designed and put together by Flavia @ Flavia the Bibliophile.
Caidyn will be in blue.
Chantel will be in purple.
---

For me, it's:
I liked it and I was super intrigued, however, I was confused about why it wrapped up so easily and why there was a series.
I'm cheating on this one because I was left intrigued but not confused. I'm going with Every Heart a Doorway by Seanan McGuire because I loved the concept of the book and I wanted to inhale read everything I could about these characters and the world.

My choice is:
Nope nope nope nope.
I'm going to say the world from Proxy by Alex London because if you are poor you are punished for the crimes of the rich and I'm not about that life.
I'd be screwed.

I actually don't own the book anymore, sadly. I finally decided to replace it a long time ago. But it was my well-loved, first edition American copy of Harry Potter and the Goblet of Fire. That was my favorite HP book for a while, but it was so worn that the cover and first few pages of it fell off. I also still own my first edition copies of the first, second, sixth, and seventh books and they're pretty loved on.
I try really hard not to damage my books anymore, but the first five Harry Potter paperbacks I have are in pretty rough shape. This was back when I didn't care how ruined a book was.

Can I ignore the trilogy part? Because I honestly can't think of a trilogy that I reread for comfort. Usually, it's a stand-alone or a long, childhood series for me. I'll list a few, that kind of fit this. Harry Potter and Lockwood and Co. are my pick-me-up books.
I'm going to say the first three Harry Potter books because those are the ones I've read most and they always remind me of how magical the series is.

But they're so cute!!!!
I wouldn't want to face Pennywise from IT. Or the guy from Needful Things. Do you see the Stephen King pattern there? He scary. And I wouldn't want to mess with those things in his books.
Maybe if I read more books with terrifying beasts, this would be easier. I'm just going to go with Aragog, the giant fucking spider, from Harry Potter because nope.
Yeah no. No.

….my instinct says Dumbledore.
I'm a terrible person.
I don't know why you didn't just say Snape… I didn't feel like attacking him since I'm going to spend a lot of time doing that in our joint reviews of Harry Potter. Fair enough.
I'm going to say, Thetis from The Song of Achilles by Madeline Miller. She is consistent in her dedication to keep Patroclus away from Achilles and by the end of the book, we understand why she did so.

Given that I didn't like Nancy Wheeler, this is awkward. She was annoying and just got on my last nerves with how she acted. Especially season two. Ugh.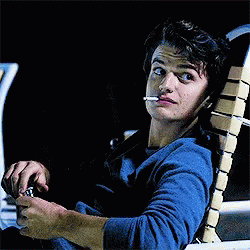 So I'm going to answer it as the asker said and a book I expected to love and didn't. For the first, I didn't expect to love Reign of the Fallen. I really enjoyed it in the end, despite the issues that I had with it. For the second, it's Let's Talk About Love. I thought that I'd absolutely adore it, but, alas.
Yeah, I didn't like Nancy either. It's funny how Steve became one of the more likable characters in season two. Steve is fantastic and is the mom of the group. He is their mother. Anyway, a book I didn't expect to love as much as I did was The Seven Husbands of Evelyn Hugo by Taylor Jenkins Reid. I know I've talked about this book so much, but honestly, I didn't expect it to be one of my favorite books of all time. I was worried it wouldn't live up to the hype and I WAS WRONG.

I'm gonna say the setting of Mark Lawrence's' The Broken Empire series and The Red Queen's War. It's an odd world and is absolutely fascinating.
More Than This by Patrick Ness has a very unusual setting. I can't say too much about it because I don't want to give too much away, but it's definitely bizarre.
We're actually going to tag people. Like holy crap, right?
We tag:
If we didn't tag you and you love this, feel free to tag yourself and say we tagged you.