Hello all!
I was tagged in this by the always amazing Laura! Spring cleaning is one of my favorite things, although I rarely do it in the spring since that's when shit hits the fan in my school life. I usually wait until summer. I know it's not technically summer, but I'm on my summer break so I count it. Thank you for tagging me, Laura!
---
THE STRUGGLE OF GETTING STARTED: A BOOK OR SERIES YOU STRUGGLE TO BEGIN BECAUSE OF ITS SIZE
This series was very hard for me to start because I had never read Sanderson and there are so many books with interconnected worlds. Now I've finished this, but it was hard at first because I had no idea where to start. (My review.)
CLEANING OUT THE CLOSET: A BOOK OR SERIES YOU WANT TO UNHAUL
I love Cleopatra and have since I was a kid. Yet, I don't love Margaret George. I read one book by her — The Confessions of a Young Nero — but I tried to pick up other books by her only to find that the main character's voice in the books was pretty similar and it felt like they were all the same. So, I don't want my lovely Cleopatra's name tarnished.
OPENING THE WINDOW AND LETTING FRESH AIR IN: A BOOK THAT WAS REFRESHING
I don't usually read YA mystery, but when I have I typically am amazed. This book was very refreshing! I was very hesitant about this book, but I thought that it handled rape, drug addiction, and PTSD very well. That was refreshing because I never felt like I was being smacked over the head with things or it was forgotten about for a while then, suddenly, the author remembered and put it in. (My review.)
WASHING OUT THE SHEETS: A SCENE THAT YOU WISH YOU COULD REWRITE
It's not a scene so much as a whole chapter. While this is one of my all-time favorites, there's one chapter that bores me to death every time. I think anyone who has read this will know the one. It's the one where Wilde goes over in painstaking detail all the things that Dorian got interested in. Paintings. Gems. Fabric. Books. God, I want it to stop every time I reread it. Needed major editing. (My review.)
THROWING OUT UNNECESSARY KNICK-KNACKS: A BOOK IN A SERIES YOU DIDN'T THINK WAS NECESSARY
I honestly cannot think of a book! Maybe that's because I think that all books in series are needed in some way. Maybe that's because I really did block out the book from my memory. Either are very good possibilities.
POLISHING DOORKNOBS: A BOOK THAT HAD A CLEAN FINISH
My review for this will be up next week, but it had a very clean finish to it. It was wonderful and I always appreciate books that chop it clean in a way that didn't feel too abrupt. Perfect stand-alone thriller.
REACHING TO DUST THE FAN: A BOOK THAT TRIED TOO HARD TO RELAY A CERTAIN MESSAGE
This was one classic that I hated. Yes, I plan on rereading it at some point, but when I read it in high school I hated it. I thought that it beat me over the head with the message that all crime is punished, whether by the law or guilt eating a person up inside. Whenever I think about this book, I cringe a little bit to this day.
THE TIRING YET SATISFYING FINISH: A SERIES THAT WAS TIRING BUT SATISFYING TO GET THROUGH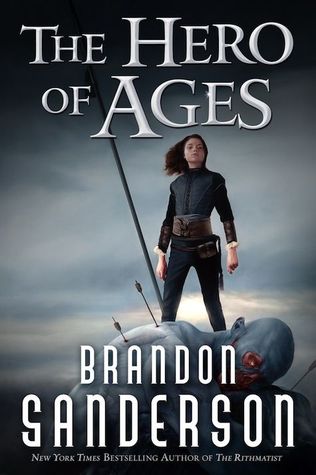 Okay. I gave this book five stars, but oh my god I didn't like it until I got to 100 pages left. I thought it was going to end on a dud and it was a bore to get through for me. I'm very glad that I've read it and I can't wait to move onto book four, but it was a slog. (My review.)
---
I tag: