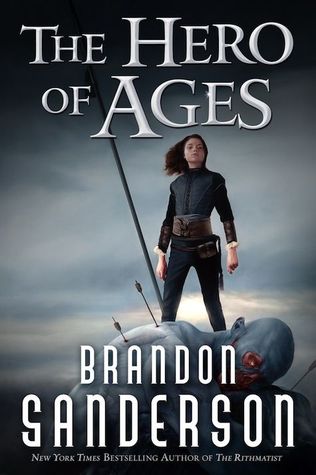 5/5
THERE WILL BE SPOILERS LATER IN THE REVIEW!
I want you to picture this scene in your head.
Chantel and I have binged half of the new Queer Eye season. I have been crying off and on during the episodes because they're so damn good. We call it quits for the night. I have less than forty pages left in the book.
It's 11:30 PM. I'm sobbing in the dark of my bedroom. I'm listening to my Doctor Who playlist. A Dazzling End is playing.
I cannot stop crying.
Because this book fucking broke me.
And, it was a long, hard ride for me. I was at page 500, like, is this going to be three stars for me?? Typically, I read series and I rate the final book five stars because it captured the emotions, gave me a good ending, and I loved the character. However, this wasn't working for me. At all.
First, it was so hard to get into I didn't like that Sanderson decided to do a lot of stuff off the page, so I had to play catch-up, along with remember everything that happened in the last book. Plus, there were perspectives that I felt were rather pointless to include in the story. Honestly, I still think that some of them could have been left out and it wouldn't have impacted the story much.
Second, the twists and turns weren't working for me. I wasn't that impressed by the progression of The Well of Ascension. That ending left me confused and wanting. And, it felt a lot like that throughout this book. There was a lot going on, but it felt like it could have been cut out. Or, there were things with worldbuilding that left me kind of meh about it.
I had to honestly fight to keep going with this because I wasn't loving it like I wanted to. I love the characters, but I didn't like the direction they were going. They felt so off.
Yet, I was hooked by page 600 when things really started going and I could see the full trajectory of the book. And then at the end when things clicked. I could look at the last book and see where it was going, which made me appreciate the awkwardness of the second book.
Oh, and it also destroyed me. That minor detail.
But, should I talk about the actual book? This is the point where I'm going to spoil you for the second book.
This picks up a year after the end of The Well of Ascension. Elend and Vin have married. Elend is now a Mistborn. They now declare themselves emperors over the land. They're fighting current factions to gain control and create alliances. They still are controlling the koloss.
There are various perspectives in this book. Elend, Vin, and Sazed are still there from the last book. Plus, Spook and TenSoon are new additions. Tbh, I felt like Spook's perspective was rather pointless. Yes, it showed that things were changing and set up one of the reveals, but I just didn't really care about what he was doing. it was rather random, too, since he wasn't a major player in either of the first two books and I didn't feel like his growing importance was set-up at all.
I have to say, I'm very glad that I finished this series. I know that one day I'm going to reread this to see the set-up because, right now, I feel like the series was very split. The first book set everything up for the rest of the series, but it was a heist. The next two books were very religious and tied into one another where the first book just wasn't. However, I'm sure that Sanderson set up the progression in the first book without me realizing it. And, I look forward to the day where I come back and enjoy the series again from a new light.
---

Have you read this series?
I'm dying to know what you think!