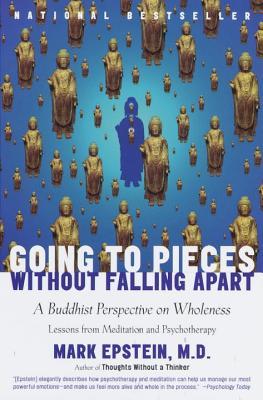 3/5
My mom got this book for me a very long time ago because she thought it would be helpful for me since I'm planning on being in a helping profession. I don't know if I want to do psychotherapy, but there are still methods you can piece out while working with clients.
So, I had a very rough end of February. Lots of stress. I decided to pick it up and read it to see if it could bring me any kind of peace.
I agree with the heard of Epstein's message. To truly heal from trauma or stress or whatever has gone on in your life that has left a mark on your mind, you have to face it. You have to look at it, acknowledge it, and learn that it is a part of you. I definitely think that's how you have to do it and there are various ways to do that. It's a very individualized process.
As a social worker, we operate on the strength's perspective. At my school, the entire program is based on that, so I'm very familiar with it. But, the strength's perspective is focusing on the strengths that the person has. Acknowledge the deficits and what they might want to build on, but do it in a way that highlights the resources, internal or external, that they have. It's very positive because positivity is the best way to empower someone.
So, I know that I could easily work this into time with people I see because it operates around that same principle. You find something that is a strength and find a way to use it to help them work through the reason they're there. Really, it's a lot like solution-focused brief therapy, which is a therapy that focuses on solutions rather than problems and resource building that keep being built upon. (I just wrote a 10 page paper on this therapy so I'm very familiar.)
However, I don't really agree with a lot of Epstein's conclusions. His therapy is very Freudian based. Now, don't get me wrong, I appreciate Freud and the current interpretations of his work in psychodynamic theories. I agree that childhood is important and that it severely impacts people. However, he's just so Freudian at times. It's just frustrating because that's not my theoretical model of the world.
And, it's Freud coupled with Buddhism. I like Buddhism and agree with lots of it, but, again, I don't love it all. So, it just really was frustrating since I'd be totally with Epstein on stuff while I was reading, then he'd say something and I was lost. It was a damn shame for me as a reader.
Totally a good book, but not one I'd go and tell everyone to read to help them work through things. For that, I'd go with my beloved Pema Chodron.
---

Read this one? What did you think?
What self-help book was a hit and miss for you?