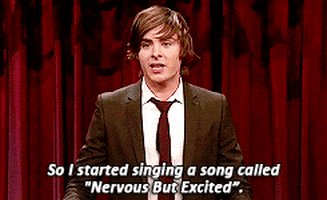 And also stressed. Also very stressed. Never forget that.
I have one month left in my first semester. Literally. I feel like I just started. And I did! I started on August 25th of this year and my last day (kind of, because my classes are confusing at times — more on that later) is December 1st.
My practicum ends on December 6th — I'll be back there bright and early January 7th, though, so my lovely hospice patients will have to deal with me more.
But, holy crap, I have a whole lot more to do.
One class, I have two papers left. Not too long, but, you know.
Another class, I have one "big" paper left. It's written but I found out I may (or may not) have done it wrong so I really need to rework it.
One last class, I have two papers due. Two-pager (aka easy) and then a behemoth that has to be over ten pages (cover and references not included) with a million citations.
Plus, I'm getting out there and seeing patients on my own!! Crazy. They're letting me out there to hang out with patients. In some ways, it's scary. And in others, it's completely normal and natural because I like them. Yes, I like all of them. Right now, I'm seeing four on my own, plus some other people I still go with for my preceptor.
Basically, while I'm super stressed and tired, I'm also really enjoying it.
---

How has your year/month/week/whatever been going?
If you're in school nearing the end, you got this!