Top Ten Tuesday was created by The Broke and the Bookish in June of 2010 and was moved to That Artsy Reader Girl in January of 2018!
The prompt for this week is, obviously, book villains! However, I did branch out some into TV, movies, and history for this one. Let's jump to this!
I LOVE HIM. He is a little shit of a villain and he is also the protagonist in the books by Mark Lawrence. If you haven't checked out The Broken Empire, I highly recommend it. Jorg is such an awful and compelling character.
---
I don't think that anyone is surprised by this choice, honestly. I love and I hate Bellatrix. I think she's a seriously well-written villain and I want more of her in the books even if I reject the shite JKR came up with for Cursed Child.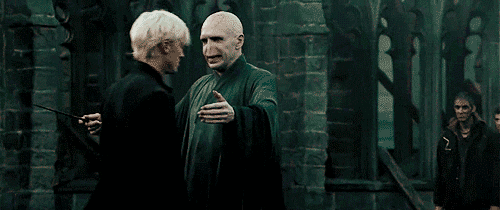 YUP. I chose the awkward gif. I think it's creepy and hilarious, but Voldie is also a villain that just gets under your skin in the end.
---
The Talking Skull (Lockwood & Co)
Okay, I know this isn't the real skull but I love this book series and the skull that is in it. Lockwood & Co is everything I want a middle-grade spooky series to be and it's just amazing. The Skull is hilariously awful and I look forward to it every time I read the series.
---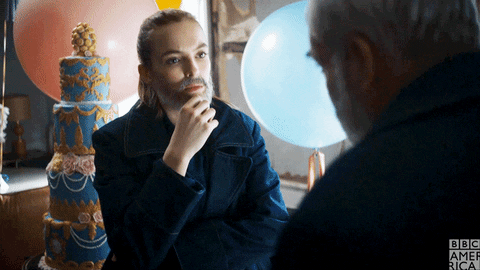 Ah, Killing Eve. This show and one of my favorite villains of all time. She's so terrible and so funny all at the same time. I mean, it's so good so you need to go and watch it if you haven't! You'll fall in love with her along the way.
---
---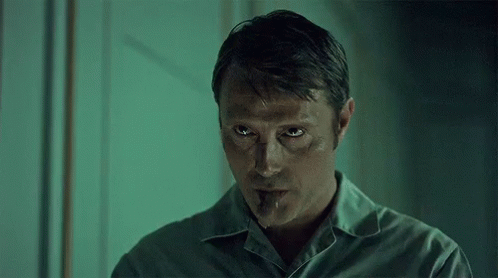 Can I ever stop talking about him? Nope. I love Hannibal, especially Mads's version of him. I mean, just so good. (And yes Hannibal the Cannibal is eating someone in that gif. It's one of the scenes in the show that makes me cackle. Does that make me a bad person?)
---
Ah, Lucifer. Silly, silly Lucifer. He's a baddie who was up my alley because he was funny and just made me laugh. Can you see a pattern with my villains? I love ones that tend to make me laugh as they do horrible things.
Chills. All the chills. And Pennywise is great for that. He just freaks me out because he can be everything and nothing all at the same time. And, Bill Skarsgard did a fantastic job at his character.
---
To me, Anne isn't a traditional villain. I don't count her as one, but she definitely has been portrayed as one throughout the years. I actually have her signature as a tattoo and, well, I love her. I think she's complex and fantastic.
---
Last person. And I think this is the most controversial. With all of my heart, I think Dumbledore is a fantastically complex character. However, when it comes down to it — no matter how Harry sees him — he is a villain in many ways. He's not a good man to me. I have a huge theory about him, too. I'm still developing it, but it's there.
---

Did I list any of your favorite villains?
Who is your top villain?