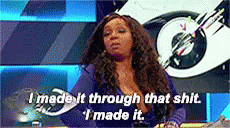 And I have NO. CLUE. how I did it.
I'm sure that you all have noticed, but I haven't been around as much. Liking all the lovely posts that you all make and put out day by day is really hard enough as it is. I simply don't have the time to complete schoolwork, create blog content, and take care of myself, so the whole commenting thing falls to the wayside. And, for that, I really am sorry since all of you put out such amazing things.
However, I made it through midterms. Which were a fucking bitch, let me tell you. One of my professors is insane and I sincerely hate her. She contradicts herself at every moment, her grading makes no sense, and her test questions were, in a word, ridiculous. At least it was a take-home with four chances to submit.
The other classes? Good but a lot of work.
Practicum is also going really well. I'm enjoying it a lot and I'm hoping to write more about it when I get a chance to. These days, I am way more active on Instagram, so if you don't follow us, you should! You'll get to see my face and hear my voice a lot more. You can find us here!
But, now, it is fall break. Which is very confusing in my school. My professors didn't give us homework for October 7-13, but the school says that our break is October 13-16. I know. Confusing as hell but whatever. Last week, I kind of prepped for upcoming projects. But, this weekend, I'm going to give myself a chance for some self-care.
With that, comes a TBR that is a bit wild looking, but I don't expect to get done with all of them.
This is going to be a wonderful buddy read with Sam! I'm looking forward to it so much.
This is me continuing on with my reread of this series in October! I remember this as being my favorite, so I'm planning on finishing this quickly.
Two short stories that I've owned for ages. I think it's finally time that I get to it. What do you guys think? Agree with me?
Since I keep getting denied for The Wicked King, this is just going to have to tide me over. Do I sound bitter about that? A little. But, I'm going to read this because it'll be super quick!
I think this is my obligatory King book for this month, but I'm also seriously excited about it.
*cries from joy* I'm so happy I got this and I'm definitely reading this. I need to see more of my beloved Percy. And Monty, too, of course.
---

For students, current or past, do/did you make a TBR for your breaks?
Have you read or want to read any I listed?