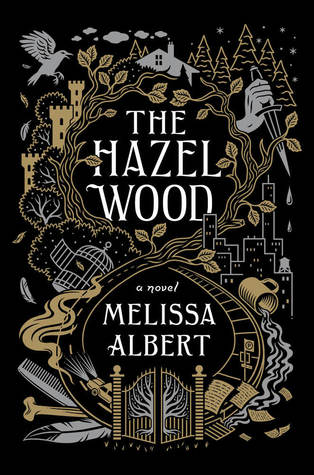 2/5
TW: kidnapping and fairytale violence
The Hazel Wood starts off with good intentions, but it is literally the epitome of a two-star Goodreads rating. It was okay. Just okay. And it's a book I'm conflicted over because at times it was really good and at times it dragged on.
The book didn't need to be 350 pages. But it was. It needed a lot of editing done because it took most of the book to get to the actual story. I think it was around page 250 where things really started rolling, then it dipped back again.
Alice and Finch also weren't great characters to shoulder the story either. Finch was, well, unremarkable. I think the most stand-out part of his character was that he is of color, but that was completely bungled. There was one awkward moment where Alice shouted at the police and Finch called her out about being privileged… and just never brought up again. The whole scene could have been cut out (same with Finch's ethnicity) without impacting the story. Sadly since I would have loved a really stand out POC character.
Then, there's Alice. A lot of people have already written about her. Yes, she's selfish. Yes, she's not that interesting. Yes, she does a lot of stupid things. But, well… it kind of worked? For one, I think that it worked with her story and the fact that this book deals with fairytales. Characters in fairytales aren't that great. Not even the protagonists.
The second reason is that, well, I saw Alice in me. Trust me, I've said and done a lot of things that I regret out of anger. I have a short temper. When I fuck up, I really hate admitting it and I get mad at myself, taking it out on others. Alice does that stuff. I really understand it.
But, sadly, the plot was just bad and the characters didn't back it up. Most of it is spent with nothing happening, then a rush to fit interesting things in only to go back to a lull. It didn't help that the ending basically wrapped it all up, yet if I look on Goodreads there's going to be a second book.
Nothing upsets me more is when there's a sequel where there doesn't need to be one. That describes how I (and Chantel) felt about A Darker Shade of Magic. The book was good. Pacing was a bit weird, the characters were decent, the plot was interesting, but the book tied up in a neat bow… then there was a sequel. Which we didn't like because it was needless.
So, I don't think I'm going to continue this series. There's nothing in me saying "OMG YOU HAVE TO FIND OUT WHAT HAPPENED NEXT" because nothing really happened.
---

Have you read this book? What did you think of it? Is it on your TBR?
Let me know!