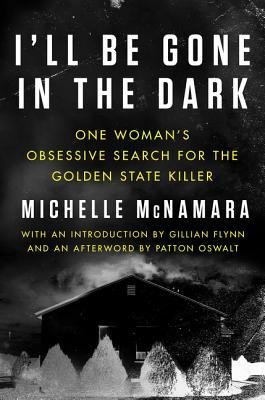 3/5
TW: past burglary, rape, and murder
No side gates are left open. You're long past leaping over a fence. Take one of your hyper, gulping breaths. Clench your teeth. Inch timidly toward the insistent bell.
This is how it ends for you.
"You'll be silent forever, and I'll be gone in the dark," you threatened a victim once.
Open the door. Show us your face.
Walk into the light.
Joseph James DeAngelo. The man linked to the East Area Rapist-Original Night Stalker (EAR-ONS from here on out) through DNA. Caught and to be tried by a jury of his peers. (Unless he pleads guilty or no contest, of course.)
I was first introduced to this case through the podcast Casefile which did an amazing five-part series on these crimes and a follow-up once DeAngelo had been caught. Definitely check it out if you feel the urge! It exhaustively covers the case and every single crime linked to it.
But, I have very mixed feelings about this book. It's not just about EAR-ONS but also about Michelle McNamara and her obsession. The two didn't necessarily mesh together for me.
The pros of this book (which I wrote down so I wouldn't forget) are that it's well-written and easy to follow. McNamara — although she passed before she completed the book — had what she wanted to write in mind. She wanted to tell the story about her search for this man and all the paths it took her down, along with bring his crimes to light because they aren't talked about.
However, I had more cons than that.
First, there were no citations. That's a pet peeve of mine. Her editors didn't go through the work to create a bibliography, cite the information, or compile much of anything. That was difficult for me since I wanted to see where she was drawing the information from. Was it Websleuths? Was it through interviews? Through the actual files? It frustrated me to no end wondering where the information was coming from.
Second, I didn't think that her conclusions were valid at times. Such as, she makes a conclusion about the man based on finding cufflinks that looked like a sketch a police officer made based off a description. Aka, the cufflinks might not have even looked like that and the officer might have been really bad at drawing. And, how many other cufflinks like that were out there? Doesn't mean that the ones she found actually were owned by the victim.
Finally, I thought it was jumbled. I didn't like how it jumped around in time and areas. I would have liked her to go through the crimes that happened in the areas because, I mean, there were so many. 50+ rapes, 12+ murders, over 100 burglaries. And a lot of the crimes were the same. I wanted her to go through them, then link them in to her research and various things.
Basically, I love the idea of it. It was very compelling to read since I did finish it in two days. Yet, it felt unpolished and unfinished despite around two years of extra work done by those closest to her work on the case. It's a good book, but not comprehensive and exhaustive.
All I can say is that I hope that Michelle is at peace and knows that he was finally caught after all of these years, and knows that her work helped bring the crimes back to light.
---

Have you read this book? What did you think of it?
Are you planning on reading this?