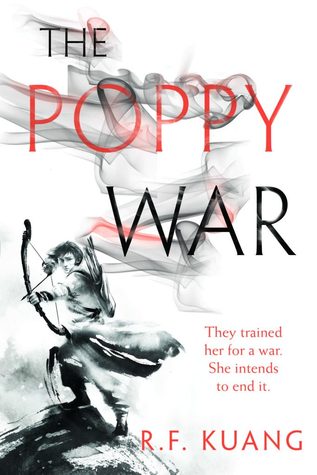 5/5
TW: Kuang actually compiled a list of triggers on her blog!
What a book. I think this might be the best fantasy I've read yet this year. This book is so epic, so great, so enthralling that it was hard to put down. (Except at one point, which I'll talk about later.)
The plot follows young Rin getting into the most prestigious academy to learn how to fight and be a soldier. She goes to school, discovering things about herself along the way. And then, as happens in fantasy series, war breaks out.
It's broken into three parts, all of them getting darker and darker. I'm not lying about it getting dark. Melanie's review actually gets more in-depth about what triggers are in the book, but I also linked to Kuang's own list. It's tough because the content starts very early in the book. Rin is from the south, so it covers the racism of north versus south, both with skin color and poverty. Each part is amazing in its own way, whether it's school or war that's going on.
The world was absolutely fascinating, too. I loved making connections to the real-life Asian countries that it's based off. The connections aren't 100%, of course. Nikara is a lot like China and the Mugen like Japan. Again, I'm not saying they are exact parallels, but they're there. And, as basically all reviews that I've read have said, this is based off the Rape of Nanking.
Finally, the characters are great. No, I'm serious. I thought that I'd find Rin to be like another Lila Bard. Annoying and fake gruff and just making stupid, impulsive choices because she's "strong". Sure, Rin was impulsive but she was smart at the same time. I absolutely loved watching her develop from a poor girl with ambitions to a young woman with ambitions who has also gone through a huge change.
Now, we get to the part I've hinted at. The triggers. Now, none of the content that is named is necessarily a trigger for me. But, Kuang doesn't shy away from it. When I read the chapter that is based on the Rape of Nanking, I began crying. Absolutely crying. I had to put down the book. I couldn't finish my reading goal for the day. I had to just put it down and I distracted myself. Hell, when the next day came and I knew I had to read it, I was afraid to read it because of how bad it had been.
Yet, that single chapter is the worst part of the book, but it sets the tone for the rest of it. If you want to know the specific chapter, feel free to comment and I'll tell you. I wish I had known the chapter because I was shocked when I got to it and how bad it was. I'd even hazard to say that if you are severely triggered by anything with rape, death, and mutilation you skip the chapter. If you're familiar with what happened during the Rape of Nanking, then you will know exactly what the chapter describes in more of a first-hand account.
That warning being given, this book is amazing. I was incredibly impressed with this debut author because it didn't feel like a debut. It felt so polished and fantastic. Watching Rin develop was a joy. Reading the plot was fantastic. I loved how it drew on Asian cultures that I could actually name and understand.
All in all, perhaps my favorite fantasy of the year.
---

What's your favorite high/epic fantasy?
Are you planning on checking this one out?