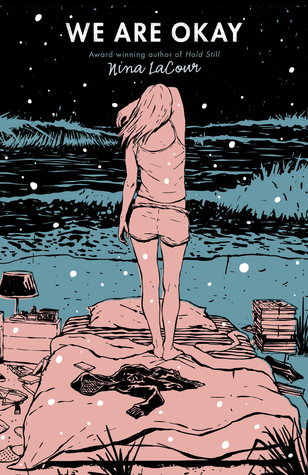 4.5/5
TW: grief, death of a family member, and depression
Wow. I wasn't expecting this book. Honestly, I'm not entirely sure how to approach this review because this is such a difficult book. Chantel recommended it to me because I wanted some Pride reads. So, I picked it up not really knowing what the book was all about because I trust Chantel to lead me right.
I think that I'll start with what I didn't like because, really, I enjoyed this book a whole lot.
Really, the only "issue" I had (although it didn't take away from my reading experience) was that I wished more things that were revealed at the end were hinted at. I didn't think about it much and when the reveal came, I was shocked and confused.
But I also think that was how we were supposed to feel. Like Marin. We took everything at face value without thinking too deeply. So, really, I found a way to counter my own issue, which means that it wasn't really a huge issue.
The whole story was very tightly woven and felt like a character study that glimpsed outside of this winter after Marin ran away after the death of her Gramps, the man who raised her. Marin left town, leaving everyone trying to figure out what to do and how to help her, most specifically her best friend, Mabel, and her family.
I really loved the complexity presented of relationships in this book. Marin and Gramps were incredibly written and showed how hard it can be to raise someone after tragedy has struck. Marin's mother died when she was three, so Gramps is all she's known as a parent. But Gramps isn't exactly a parent. He's trying to deal with his own grief for the loss of his family in his own way, impacting Marin's upbringing. It's incredible to read it and see that on the page.
Then there's Marin and Mabel, best friends and something more. You see how their relationship shifts throughout the book, then how it falls apart once Gramps dies and Marin makes her own choices (which closely mirror what Gramps does). And then how they're left trying to pick up the pieces of what they once had even though it can never be truly brought back.
Along with Mabel is the relationship that Marin has with Mabel's parents, which is just poignant and gorgeous. I absolutely adored reading it because it was so sweet and sad at the same time. Mainly sweet. It totally made me cry.
And then there's the beautiful way the title links in with the whole book. Despite the grief, despite the problems, despite everything going wrong, we are okay. We are okay and going to make it. It was just beautiful.
I'd definitely recommend this to people who want to have a tightly woven story along with a good cry. I'll read this book again one day.
---
Have you read this? What did you think?
What's a book that was depressing but you loved?