First Lines Fridays is a weekly feature for book lovers hosted by Wandering Words. What if instead of judging a book by its cover, its author or its prestige, we judged it by its opening lines?
Pick a book off your shelf (it could be your current read or on your TBR) and open to the first page
Copy the first few lines, but don't give anything else about the book away just yet – you need to hook the reader first
Finally… reveal the book!
Caidyn will be in blue.
Chantel will be in purple.
---
Before Hannah left, she asked if I was sure I'd be okay. She had already waited an hour past when the doors were closed for winter break, until everyone but the custodians were gone. She had folded a load of laundry, written an email, searched her massive psychology textbook for answers to the final exam questions to see if she had gotten them right. She had run out of ways to fill time, so when I said, "Yes, I'll be fine," she had nothing left to do except try to believe me.
---
This is an impromptu addition to this month's TBR because of Chantel. She read it and when I asked for some recommendations for Pride reads, this was one of the books she gave! So, it's up on my list of books I want to read before June ends.
It is…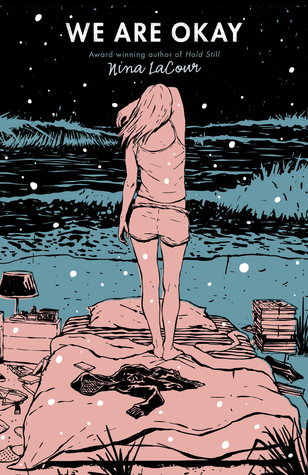 You can read Chantel's review here and you all should totally read it. (Because Chantel's reviews are fantastic.) I honestly don't know a whole lot about this book besides that Chantel recommended it to me. So, I'm actually really excited to be going into this pretty blind!
---
I'm almost positive that I've used We Are Okay for FLF before, but I'm just happy that Caidyn is finally reading one of my favorite books of 2018. 
Now, onto my book. 
Charlie refuses to answer my texts. Or she has her phone set on silent. Or she forgot to charge it. Or she had a rare fit of temper and tossed it into a toilet, thereby rendering it unusable. 
Whatever the case, this lack of communication between us is decidedly not normal. 
---
This week I'm keeping it short and sweet. This is a book that came out this year that I've been excited to read. It is a book written by an author of one of my favorite books of the year so far, so my expectations are high. Not only that, but the plot sounds incredibly interesting and I want to see how it unfolds. 
I chose…
Girl Made of Stars by Ashley Herring Blake
Earlier this year I read How to Make a Wish by Ashley Herring Blake and I loved it. It will go down as one of my favorite books of the year (so far). I would highly recommend it for the complex relationship between Grace and her mother as well as a great f/f romance. So good. 
But this is not another How to Make a Wish review. I have been excited to read Ashley Herring Blake's new books (she has two just from this year!) and this one captured my attention as it's about a girl whose twin brother is accused of rape by her best friend. It's an extremely heavy subject, but I'm very interested to see how it unfolds. 
---
What do you think of our choices? Have you read them? Did the first lines hook you in?