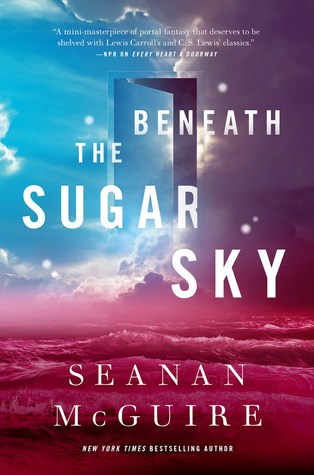 (Caidyn)
4/5
You can find Chantel's review here!
My review of book one is here and book two is here.
Another four-star read for this series! Honestly, I'm really impressed since, going into this, I had read Chantel's review and we have talked about this series multiple times. Just talking since it's rare that I get into a YA series these days. But this one, it's really good.
This story, in a way picks up from Every Heart a Doorway. It's a direct sequel, in a sense. While Down Among the Sticks and Bones covered Jack and Jill's backstory — in a way, explaining their characterization in a way the first book hadn't been able to — this is another adventure that relies on what happens in book one.
Yet, I won't get into it. I won't. Well, kind of.
Sumi has a child in the future, a child who was born in the world. A child who is disappearing because something happened to her mom. And that's the story. Fix her. Stop her from disappearing and change it all.
This adventure involves two old favorites — Kade and Christopher — and three new characters — Nadya, Cora, and Rini. It's largely told from Cora's perspective, a (self-described) fat girl who is really a mermaid from her world. Nadya was adopted from Russia and has one arm, and also terrorized turtles in the world she went to. Both of them went to water-based worlds, so it makes sense that they're best friends.
Cora telling the story didn't make much sense to me in the end. I thought that she was a character who could have been more developed and someone we were familiar with, such as Kade or Christopher (two characters that I love). Cora didn't feel dynamic to me. Which I was hoping to be wrong about because I think all of the characters in this series are great. But, Kade or Christopher would have been a better choice.
What really shone for me was the plot. It was so much fun to have a real adventure — not one, like in Every Heart a Doorway, that felt kind of tacked on and awkward, but one that really belonged in it. The book had a set plot and trajectory to it, something I really enjoyed.
Then, it was so funny. All the characters are different and it was fun to watch them interact. While I desperately want a story focused on Kade (like, his backstory), Christopher stole the show with some of his lines. Those two are the most developed characters, honestly. And I hope that they get their own story, especially a backstory since the more I hear about them, the more I want to learn about the worlds they came from.
In summary, while I thought that Cora wasn't the best choice of MC, I loved the story and the characters. It was a compelling plot that kept me motivated for more because I fell in love with the characters more and more while I read.