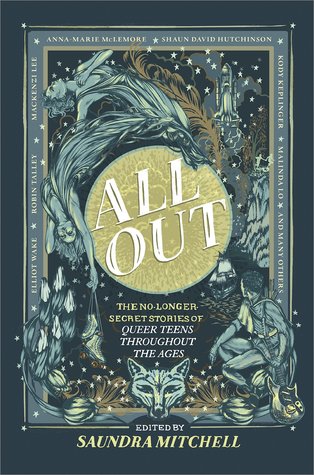 (Caidyn)
3.74/5
I have a very specific number for my rating, don't I? That's because I totaled up all of my individual ratings to see how it evened out over the whole book. And I think that basically describes my thoughts about it.
It started off with a bang, but I thought it cooled quickly with some good stories in the middle. A lot of the stories actually blended together for me. I thought there were a lot of F/F stories. I expected to have a ton of M/M stories, but there weren't too many. Now, I love F/F stories, but, by the end of the collection, they all blended together because they were so alike.
I was also surprised that there were two stories that featured transmen (one M/F and one M/M) in some way. My shock is because I'm used to there being more about transwomen than transmen. It would have been nice to have something with transwomen in there.
Also, no bi or pan stories either, unless I didn't catch hints dropped that a character identified as such. I think that one of the last stories had a bi love interest, but it was never really stated.
There was a lot of diversity within the stories even though I thought there could have been more sexual diversity. Lots of rep for various cultures, which made my heart sing at times.
My favorite stories were: Roja, And They Don't Kiss at the End, The Dresser & the Chambermaid, Every Shade of Red, The Secret Life of a Teenage Boy, and Three Witches.
It should surprise no one that both of the stories with transmen and the one story with an ace person are in my favorites. The other three are an M/M and the two F/F stories that really stuck out to me.
Overall, I thought this was a good collection that I could see myself rereading one day. Keep reading for my mini-reviews of the stories!
---
Roja by Anna-Marie McLemore: 4/5
My little transboy heart was full with this one. Especially as I just had top surgery (literally one week ago – 3/13/18), so I'm really in tune with that facet of myself. I think it was the author's note and one passage from the story that choked me up, as our MC described how she always saw Leon as a man, no matter what his body said. And that he was hers. God, I'm getting teary just thinking about it.
But, why a star off? I got choked up. I got emotional. That's not usually how I am (although Chantel will beg to differ). I just thought it could have been developed a little more. I wanted more concrete details. Did our MC really have some witchy power? What happened to Leon? All the details kind of blended together for me and didn't quite meld. I really enjoyed it in the end, but I thought it could use a little more.
The Sweet Trade by Natalie C. Parker: 3/5
Cute. It was cute. I liked the characters and the story being told, but I just wanted more. I really wanted to have more to the story where I found out more about them and if Clara or Pearl had those feelings before or if it was the first time they noticed them or some combination. It just didn't feel as developed as I wanted it to me, even though I thought the story was super cute.
And They Don't Kiss at the End by Nilah Magruder: 4.5/5
MY ACE HEART. It was so sweet. So, so sweet. I loved how it was really a character study with an internal drive rather than something external. It was all about Dee not having the word for her sexuality when she was describing it perfectly. And the guy, Vince, so sweet.
Can you tell I thought this story was sweet and cute and lovely?
It made me feel happy to get some ace rep in here, and to have it in a non-awkward and a chronistic way. It never felt like I was getting a lecture or being taught about asexuality because that term wouldn't have been used in the 1970s. It felt specific to the time, all while capturing the timeless feeling of asexuality (the non-aromantic side of the spectrum, though).
Burnt Umber by Mackenzi Lee: 4/5
Another super cute story. So far, most of these are fluffy and cute. I like that. But I loved how this was set in the 1600s, far before there was a more modern idea of queerness. It felt very outside the scope, yet, again, it connected deeply to a boy knowing that he's not interested in women and trying to figure that out. Along with navigating that unattainable crush we've all had and realizing the person in front of you is the one you ought to be with.
The Dresser & the Chambermaid by Robin Talley: 4.5/5
I have to admit, I spent a lot of this story researching. I kind of got interested and decided to figure out who Princess Amelia was. Finally, I figured out she was daughter of George II and that was cool. Obviously, this one caught me. I love some good history tossed in and historical figures.
And the characters were so great. Country girl versus city girl. Not in a women pitted against each other way, but just the obvious differences that come from that. I found them both so cute and fun and charming. They were a joy to read about, really.
The mini-tension that came about near the end of the story was well-placed, but not overdone. It could have easily been overdone, too. In the end, I felt like I could have read a whole book about these characters. Especially Barnaby. Because, y'all, he seemed like a joy to have around.
New Year by Malinda Lo: 4/5
This one was unique compared to the others. Instead of following a blossoming relationship, it showed a Chinese American girl in the 1950s discovering she's not straight through a chance encounter with a male impersonator. It was a lot of fun. While it wasn't like the others, that made it stand out all the more. Plus the diversity! Chinese Americans in the 1950s with a nod to Maoist Communism and American fears. It just made me smile because I liked how it was purely a teen discovering herself.
Molly's Lips by Dahlia Adler: 3/5
I can think of someone who would enjoy this story more than me. Maybe because I'm not into music. I don't learn every fact about the artists I listen to. Sure, I'll listen to them over and over again, but I don't have to know every teensy thing about them.
Molly and Annabelle never exactly jumped off the page for me. They were there and I could understand how they felt — we've all mourned a celebrity death in our lives — but, other than that, it didn't work for me. I think that if it was just a little bit longer, I would have enjoyed it more.
The Coven by Kate Scelsa: 3/5
I have about the same critique for this as the last time. I liked the story and the meaning behind it of the MC's confliction over her brother, but I also wish that it had been longer to let me get a glimpse of their relationship at its fullest. It felt unfinished. A good snapshot, but unfinished as a whole.
Every Shade of Red by Elliot Wake: 5/5
WELL THAT HURT.
But, Elliot Wake wrote a M/M romance with a deaf character and a transman character. Set back in the 14th century. And was a reimagining of Robin Hood. Like holy fuck. That was a good ass story. And one of the only stories that didn't have a happy ending. But what should I expect from Wake? I just loved that this was an own voices story and was a really well-crafted story. Maybe it's more of an impulse to give it5 stars, but it also was just a damn good story.
Willows by Scott Tracey: 2/5
While this was a longer story, it felt as if more went unsaid than actually stated. And I didn't like that. If it's going to be more of a fantasy/paranormal theme, then I need more explanation than it sort of being hinted at. I don't like making assumptions about the author's world.
So, this one wasn't my favorite. I didn't think it was developed as much as I wanted it to be, even though it was a longer story. Maybe it's because I wasn't paying as close attention to it, maybe it was because it wasn't the best story. And what a shame since this is only the third (I think) M/M story in here.
The Girl with the Blue Lantern by Tess Sharpe: 3.5/5
Another fantasy, but more explained. At least slightly. At least, the world the MC was coming in contact with wasn't important to understand. Just that it was there. I thought it was sweet and interesting, but still not my favorite. I just didn't connect to it as much as I wanted to, hence the brief review.
The Secret Life of a Teenage Boy by Alex Sanchez: 4/5
Aw, this was a cute one. It pulled at my heartstrings just right. A boy knowing he likes boys, being teased for it, not out to everyone in the late 60s, and falling for a guy. It was such a teenage story that it made me smile. Sudden "love" for this person because hormones tell you you're in love and you don't know what it all means just yet. Then, you realize that you can't be in love and you can't run off because there are things at home. Even in a place that isn't accepting of it.
It was just sweet and a story that left you wanting more and hoping he was able to be who he was, but also knowing he has something within him that will keep him safe no matter what.
Walking After Midnight by Kody Keplinger: 4/5
So cute. Two women supporting each other. I'm a softie for that sort of stuff.
But, really, it was a cute story that featured a young woman yearning to leave a small town and a woman who feels far too old and washed out for her age. It's that kind of story where they just have a night together (maybe more) to lift each other up. And also kiss.
The End of the World as We Know It by Sara Farizan: 4/5
These are all too damn cute. Set during New Year's Eve of Y2K (god, most of the kids on here will have no clue what I'm talking about, will they?), it features two friends trying to figure out where things went wrong. Having had many friendships that fell through because I was just shut out, I really connected to how the MC felt. That pain sucks. It really sucks when you suddenly don't have a friendship you valued.
But, anyways, the story is about those friends talking about what went wrong, then features my favorite romance trope. Something I could get behind 100%
Three Witches by Tessa Gratton: 4.5/5
YAS. 1519 in Spain. My era. And lesbians.
I think what makes this even more interesting is that lesbianism is so undocumented throughout history. That makes it so interesting when it's tackled in fiction. And tackled so well. I was going to give this five stars because I thought it captured the feelings in such a brief, compelling way. Then there was the last part that didn't thrill me and so I took that .5 off.
The Inferno & the Butterfly by Shaun David Hutchinson: 3.5/5
This is like a gay version of The Prestige. Okay but minus the magic and deception but add in real magic. And gay boys who have some sort of powers. It was a lot of fun, reading this one. I liked the characters, liked the story, liked the way it was developed. Yet, despite this being on the longer side, I wanted more. It felt as if I could have used more backstory for the characters.
Healing Rosa by Tehlor Kay Mejia: 3/5
I like how the stories came around, in a way. The collection started with Mexican culture and ended with it, both involving magic and witches. This one, though, didn't interest me as much. I enjoyed the PTSD and grief rep in the story, but other than that it didn't stand out in my mind. A good one and interesting one, but just didn't stick out.