First Lines Fridays is a weekly feature for book lovers hosted by Wandering Words. What if instead of judging a book by its cover, its author or its prestige, we judged it by its opening lines?
Pick a book off your shelf (it could be your current read or on your TBR) and open to the first page
Copy the first few lines, but don't give anything else about the book away just yet – you need to hook the reader first
Finally… reveal the book!
Chantel will be in purple.
Caidyn will be in blue.
---
The end of our final winter break seems almost like the beginning of a victory lap. We're seven semesters into our high school career, with one last – token, honestly – semester to go. I want to celebrate like your average guy: with some private time and a few mindless hours down the Youtube rabbit hole. Unfortunately, neither of those things is going to happen. 
Because, from across her bed, Autumn is glaring at me, waiting for me to explain myself. 
---
Okay, this is a book I have been wanting to read since I heard about it. For some reason it's one that I've never picked up despite having it checked out from the library for at least a few months. Every time I look at it I want to read it, but that hasn't translated to any actual reading. Actually, today is the first day I opened it up and read anything out of it, the first lines that is. 
So what book am I ashamed to admit I haven't read yet?
Autoboyography by Christina Lauren
I am hoping to start this book really soon because it's a queer book from last year I still haven't gotten to. I don't hear this one talked about very often but I've heard good things from what I have heard. 
---
The moth makes Evie laugh. It lands on her bare forearm and she brushes her index finger lightly across the brown and gray waves that color its wings. "Hello, gorgeous," she tells the moth. It lifts away. Upward, upward, and upward the moth goes, and is swallowed by a slice of the sun tangled amid the glossy green leaves twenty feet above Evie's place among the roots on the ground.
---
That was pretty, wasn't it? I wanted to do the whole opening passage, which was around half a page, but I decided it was a teensy bit too long and I'm feeling lazy this fine afternoon, so I'm not. You can have the first paragraph.
This is by one of my favorite authors, one he co-wrote with a relative. He's a prolific horror writer. I mean, I think that should be more than enough hints for you all.
It is…
Sleeping Beauties by Stephen King and Owen King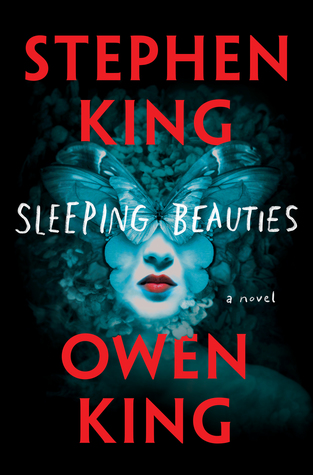 I got this book as an add-on through Book of the Month a while back. (I'm not even going to try to look exactly when it was.) But, it's gorgeous and tops out at a little over 700 pages. A proper tome. Now, I love Stephen King. I can probably name the duds I've had from him on one hand.
And, this book is no different. I'm only 80 pages into it and it's fantastic. The crafting of it is gorgeous, something I have more of an appreciation for thanks to reading On Writing. Characters are fun, the plot is super interesting, and I can't believe how much I just wanted to read it and curl up with it for a long night.