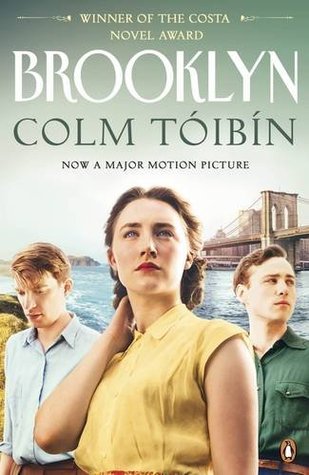 (Caidyn)
4.5/5
I am from a family of immigrants, as are all people in America. But, on my mother's side, I'm the fourth generation born in America. My great-grandmother was Italian and her mother was brought over from Italy to marry a man that she didn't know. While she passed some years ago and I don't know the whole story, I do know that she largely lived in Italian areas, in New York City at that. While there, she married across immigrant lines. She married a Polish man.
So, this story felt very familiar to me.
Eilis was out of work in Ireland despite being very smart and good with numbers. Thanks to her sister and a priest, she goes to America to find her fortune. Along the way, she meets a boy who isn't Irish and has to make a big choice after something drastic happens at home.
That's the basic plot, without giving any spoilers away for those who haven't read it or seen the movie.
I think that one of my favorite parts of this was seeing the prejudice among immigrants against other immigrants. You have the Irish hating the Italians and the Jews, making wild prejudices against them. In a way, it reminded me of when I learned about German Jews being prejudiced against the influx of Eastern European, and therefore Orthodox, Jews that clung to home traditions rather than assimilated as they had.
It also reminded me of my family. A good Italian girl marrying a Polish boy. She broke huge, invisible rules. And, to me, it really hit home about my own heritage. Just how big a deal that was when you could hear from your family and friends how horrible these people were.
Another theme I loved was the culture shock of going home again. One of my friends lives in very liberal Colorado during the school year, but she comes back to small-town, conservative Kansas a few times a year. This time, she told me how much of a culture shock it was, to be in this completely different area. Since I've traveled, I know that I've felt that. One of my memories is when I was in Japan as a child and my dad had me go through a changing room on my own to get to him. It was so different and frightening for a child.
I thought that Tóibín highlighted that perfectly in Eilis. That confliction she felt about being home and seeing her family, then how strange it was for her. Her change in characterization also struck me well. In America, she learned to live on her own and to take care of herself. In Ireland, she lost that and went back to how she had been before, allowing others to make choices for her.
While I didn't enjoy the pacing of it — it took so long to get to what the description discussed — that was my only con for the book. Other than that, it was a very good story with characters you could root for.