As the months continued to go along, I found that there were quite a few books being put off especially ones that I've bought and never read. Whether it was because I wasn't interested in reading them at the time, or more exciting books came along. So, this book is going to consist of books I currently own on my bookshelves or Kindle right now because it's just as important to read the books I own. I'm willing to give it a try at least and see how it goes. This will not include books Caidyn and I read for the BW Book Club. To put it simply, these are books I feel it's necessary for me to read in the next year.
And I (Caidyn) am joining in on this so there's that. Chantel keeps talking about herself (that's what I do best; believe me, we know by now) and, you know what, I'm joining here to list my top 10 books to read next year.
Chantel will be in purple.

Caidyn will be in blue.
---
1. King of Thorns by Mark Lawrence
I should've read this book in 2017 when I finished the first book. The sooner I get to this second book, the sooner I can finish this trilogy. My only concern is having forgot everything I read in the first book.
2. Aristotle and Dante Discover the Secrets of the Universe by Benjamin Alire Saenz
Speaking of books that I should've read a long time ago, I got this book from Caidyn for my birthday and as someone who does her best to promote LGBTQ+ lit, I'm pretty embarrassed I haven't read this yet.
3. Station Eleven by Emily St. John Mandel
I've heard nothing but good things about this book. The main selling point of this book is that it's in a post-apocalyptic world and follows a Shakespeare troop. That's all I needed to know and I think I'm going to enjoy it. I just hope it's not too hyped.
4. The Bear and the Nightingale by Katherine Arden
Can I be honest? I don't know a lot about this book (I'd like to keep it that way), but I'm in love with the cover of this book (and the second book's cover). Now, I normally don't pick up books based on the cover alone, buuuuuuuuuuuuuuuuuuut I couldn't help myself. I look forward to getting to it and so far I've seen great things about it.
5. A Single Man by Christopher Isherwood
So, I've known about Christopher Isherwood without actually reading any of his books. I watched a movie called Christopher and His Kind which is based on his memoir and stars Matt Smith. I remember really enjoying the movie and as a result, watched A Single Man. WHICH RIPPED ME APART. It stars Colin Firth, who I adore, and it's a beautiful movie. Now, I want to read the book and might do another review which talks about the book and movie sometime in 2018.
6. We Are Okay by Nina LaCour
One of my favorite books I read this year was Everything Leads to You. It was a great book with a sweet, slow burn f/f romance, but my main issue with it was that the characters seemed older than high school students. I wish they had been in college, or out of high school because it would've seemed more realistic. Then alas, this book comes out which takes place at a college. I think that this going to be a really sad book, which is why I've probably been avoiding it since I bought it, but I'll get to it. Don't worry.
7. Wake of Vultures by Lila Bowen
I've only been interested in this book because I've heard there are queer elements. I'm not sure if it does or not, but I'm pretty sure I saw it on an LGBTQ+ recommends list. It's also got vampires which concerns me a bit, but clearly not that much because I bought the freakin book.
8. When the Moon Was Ours by Anna-Marie McLemore
Magical realism. Gorgeous writing. Trans MC. That's all. I have started this book before and did not continue, but I knew I would come back to it one day. I hope to read it in 2018.
9. Graceling by Kristin Cashore
This year, Kristin Cashore released a book called Jane, Unlimited which will likely be one of the first books I read next year because I've wanted to read it since I heard about it. However, I've heard nothing but great things about the Graceling trilogy and it sounds like a fun series. I want to stop putting off reading this series because it's been on my shelf for months.
10. We Are the Ants by Shaun David Hutchinson
I'm not going to lie, I DNFed one of Shaun David Hutchinson's books. I wasn't really that interested in it and it was before I was reading on a normal basis. I might go back to it one day, but first I'm going to read We Are the Ants. This book sounds like it's going to break my heart as it deals with some heavy subjects, but also includes…
---
1. The Complete Sherlock Holmes, volume 2 by Arthur Conan Doyle
My goal was to read that series in 2017, but I got super busy and just didn't have the time to complete it. So, 2018, I'm going to finish it up! Plus, I try to read one classic author per year, so this works well as a carryover for that.
2. Sleeping Beauties by Stephen King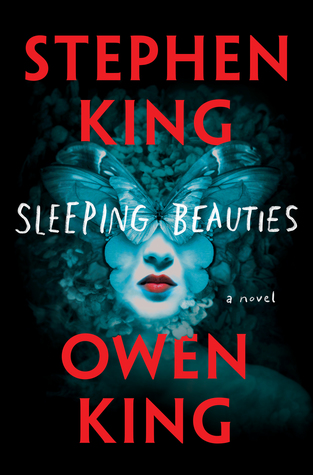 I got this book from Book of the Month as an add-on. I adore Stephen King, so I really do want to read this next year. Plus it's a huge book, so it'll take me some time to complete.
3. Insomnia by Stephen King
I think that my theme for the first few books are just tomes I own that I really keep meaning to read. This one is an older one of King's, but I'd like to read it since I've not heard much about it. Just that Robin Williams was in the movie, which I watched. And remember nothing of. Good job me.
4. The Creation of Anne Boleyn by Susan Bordo
Finally, onto some Tudor books! I tried reading this one a while ago and it didn't stick with me. Maybe because it talked more about her in media, like TV and movies. Either way, I'd like to read this "new look" to decide if it really is a new one.
5. The First Queen of England: The Myth of "Bloody Mary" by Linda Porter
Mary I is another fascinating Tudor woman who has been really bashed by history. Yes, she executed people, but she's not too much different than her father. And think of her stressful childhood, too. I'm looking forward to learning more about her and this is a book I own that seems like a good first start.
6. The Life of Elizabeth I by Alison Weir
Ah, Alison Weir. My love-hate relationship. However, I own this book (along with another huge book about Elizabeth I) and I'd like to read it since I don't know as much as I'd like about her reign.
7. The Queen Mother: The Official Biography by William Shawcross
Ever since watching The Crown (haven't seen the second season yet so please don't tell me too much about it) I've wanted to know more about the current royal family. And I bought this book a while ago that's all about the life of a woman who lived to be 101.
8. The Autobiography of Henry VIII by Margaret George
This is one of those books I've heard a lot about and just haven't read. I also own it and other books by Margaret George but haven't had a chance for. So, why not? Yet another tome.
9. Tricks/Traffick by Ellen Hopkins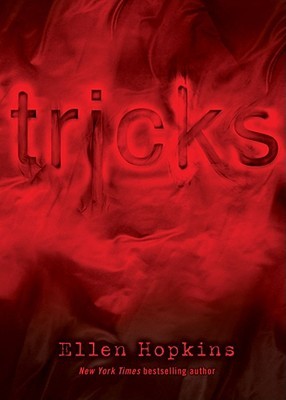 I know, I know. "But Caidyn, don't you dislike YA? Haven't you ranted a million fucking times about Ellen Hopkins?" Hold it, hold it. Okay? I don't like Ellen Hopkins anymore. I won't read her now. BUT. Tricks was the first book I read by her. I'd like to reread it. And I own Traffick as well. I'll read them and then be done.
10. Let the Right One In by John Ajvide Lindqvist
The first time I heard of this book was as a movie. The movie is very popular and I've kept myself from watching it since I really want to read the book first. Well, I own the book. And this is another book I want to read in 2018.