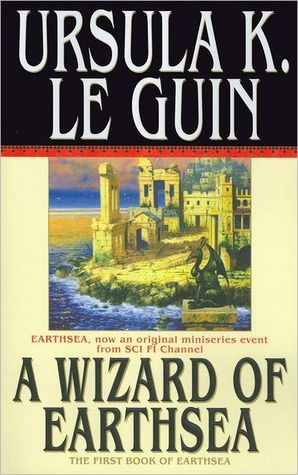 (Caidyn)
2/5
This is awkward.
The whole reason I chose this book for Yule Bingo because I like Ursula K. Le Guin. Chantel introduced her to me last year with The Left Hand of Darkness (and please ignore the review; we were still learning how we wanted to do the whole joint review thing). This is one of her well-known stories, one that I've known the name of for years.
So, I thought of this when I saw the option for a book with a map and decided that I might as well.
For me, it felt so detached the whole time. I couldn't get into the characters or the story since it didn't really seem to have a plot for over half the book. It wandered so much. That's not a bad thing since I've liked books that do that before, however, it just wasn't done well. It reminded me, quite painfully, of The Gunslinger. That was an absolute pain, a book I slogged through. I could barely read a few pages before I wanted to set it down.
Just like this book.
While I don't entirely blame it on the book since I've been busy and exhausted, I don't think that Le Guin's impersonal style helped me along with creating a bond. I remember in The Left Hand of Darkness having some issues with getting into it initially, but it smoothed out by the end. This book wasn't long enough for me to feel as if it got fully fleshed out.
Final thoughts? This is going to be one I come back to in a few years to give it another go to see if my opinion changes.