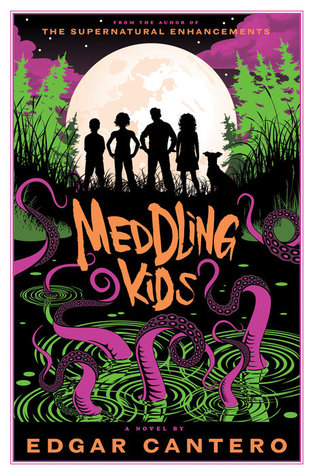 (Caidyn)
1/5 – DNF at 90%
So, I love Scooby Doo. When I was a kid, it was probably my favorite thing to watch. I loved the movies, the TV shows, and anything else I could get my sticky hands on. I mean, I still own and will never get rid of a Scooby Doo fact book that I would pull out and quiz people on. Obviously, I was a cool kid. Hell, I even made a YouTube channel just so I could follow a channel that only posted episodes of Scooby Doo. This was before the copyright laws really kicked in, kids.
For me, this book was a lot like Zombie Island, which is one of my favorite Scooby movies. Andy, Kerri, Nate, Peter, and a dog went to a house to solve a mystery, caught someone, and called it done. Yet… it stayed with them forever and they've come to realize that the things they saw that night were real. And they have to go back to finish it. Except, one broke out of prison, another from a mental health facility, one has a drinking problem, and the other is dead.
It's an intriguing plot. I love the whole leaving and coming back to finish things trope, however, there was one issue that actually turned me off so much with the reveal of who the bad guy was that I stopped listening to the book.
What's that issue? Transphobic comments.
Now, this book is set in 1990. Back then, making those comments were okay and socially acceptable. Today, not so much. I don't like imparting current moral views onto past ones, however the comments and plot literally could have been nixed and nothing would have been missed.
There were some comments before the big reveal, too. When Nate was in the asylum, he repeatedly called someone with a rather feminine name and feminine presenting a hermaphrodite. That is not socially acceptable and I don't think it has been for years. Even in the 90s. I tried to forget it and move on with the book. Then, there were comments about how Andy was very much a tomboy and butch and then that they all thought she was going to "transition". Aka, was a transman. Again, brushed it off. Ignored it.
Then the reveal happened. And there will be spoilers for the end. I'll try not to mention names.
The bad guy in this is trans. Or… "became" trans. They transitioned for a cover and it was disgusting. It's equating evilness with being trans and that it was all a plot to trick people. Because that's what being trans is. Then, the person told Andy how easy it is to transition. Sorry, but I don't know what planet you live on. Being someone who's transitioning I know it's not easy. It's the furthest thing from easy. And in the 1990s? Fucking please. Give me a damn break.
While perhaps Cantero didn't mean for it to come across this way, but I took it as very insensitive and disgusting. It canceled out everything I liked about the book before it happened. I sincerely hope this doesn't win anything for the Goodreads Choice Awards since it's just reinforcing perceptions that transpeople have had to deal with for years.