While we didn't get tagged in this book, we saw that someone we follow, Melanie at meltotheany, did this tag and we decided it would be fun to do it as well! This tag was created by seelieknight and we technically weren't tagged in this, but oh well!
Caidyn will be in blue.
Chantel will be in purple.
---
1. Best autumnal themed book cover?
I'm not sure if I've ever really paid attention to autumnal themed covers, to be quite honest. There's a certain fall color scheme, I know, but I just love The Graveyard Book by Neil Gaiman.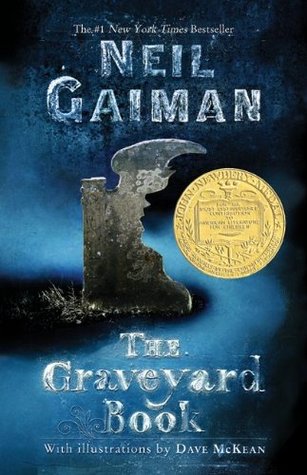 Uhh, nothing really comes to mind. Hang on, let me rummage through my shelves. Okay, back. Now, this might be cheating because these are two of the same book and they aren't the original covers, but I don't care. I chose the Gryffindor and Hufflepuff 20th anniversary paperback copies of Harry Potter and the Philosopher's Stone. Also, what's more Autumny/Wintery than thinking about sitting by the fire in one of the Hogwarts common rooms?
2. Which fictional friend group would you trust with a Ouija board?
This is a toss-up for me between Harry, Ron, and Hermione or Luna, Ginny, and Neville. I don't know who would be more fun to do it with, but I think that the latter group. Luna would be hilarious as always. Ginny would be holding everyone together. Neville would be reacting as only Neville does.
I've never touched a Ouija board before and I don't think I ever will, but for this hypothetical situation, I choose Charlie, Taylor, and Jamie from Queens of Geek by Jen Wilde. Charlie would likely be really into it, Taylor would be freaking out, and Jamie would be acting all cool. Also, name a better trio. I'm waiting. 
3. Which book setting would you love to be celebrating in during Halloween night?
Yes, Harry Potter again. Dude, they have a fucking feast. And everything seems to go wrong then so that'd be fun to be a part of.
So, this might be blasphemy, but I don't like Halloween. Ever since high school, I haven't celebrated it, but I would probably choose Red London from the Shades of Magic trilogy by V.E. Schwab. We might not have enjoyed the series, more blasphemy, but that world is fucking magical and I want to be a part of it no matter what time of year.
4. Best autumnal food description inside of a story?
Totally Harry Potter. I had pumpkin juice while I was at Universal Studios and it was 100% fantastic.
I don't fucking know. I'm gonna be lame and say Harry Potter too. That's the only book where I can actually think of food. It's definitely not something I focus on when reading.
5. Which fictional character would you dress as?
I dressed up as fictional characters all my life. I have a fantastic picture of me in a Stuart Little costume that looks like I'm out of some kind of horror movie. But, I don't exactly dress up anymore. I'd love to dress up (in this theoretical world) as Dorian Gray with his portrait.
Eleven from Stranger Things. 
Oh? Is Stranger Things not a book? I didn't see anything specifying books. 
Also…
Isn't this the best outfit ever? She's my fucking hero. 
6. An antagonist you would pledge your allegiance to?
Jorg Arancrath hands down. Completely pledge myself to him.
Uhh, next question. 
7. The creepiest book you've ever read?
I've read so many creepy books that I can't think of just one. Most of them are Stephen King. IT, The Shining, and Misery really got me freaked out, though.
I don't read creepy books. I don't like creepy things. If I had to pick one, I'd go with Down Among the Sticks and Bones by Seanan McGuire. 
8. A book you've yet to read but will read this October?
I'm planning on finishing up the Lockwood & Co. series, but I also really want to read a cultural history of horror movies, The Monster Show by David J. Skal.
October is over, yo! I will change to November and say, Jane, Unlimited by Kristin Cashore. It's at the top of my next to read list.
9. Which fictional character would you put in charge of the decorations for a Halloween party?
Mrs. Weasley. She'd be utterly fantastic, wouldn't she? Then, let's toss Fred and George in since they'd also probably make it super awesome as well. 
I wouldn't go to a Halloween party. If I had to choose, I'd pick Prince Rhy from the Shades of Magic trilogy by V.E. Schwab because he'd make it extravagant and fantastic.