Another week is gone and we are getting closer and closer to the end of the year. It's nice to have a constant on our blog so that no matter what we always do First Lines Friday. If nothing else, we at least have content coming out once a week. We've got some great things coming up, and Caidyn has created a survey to involve you guys in helping us choose our books for the BW Book Club next year. We appreciate any and all feedback you guys might have for us.
First Lines Fridays is a weekly feature for book lovers hosted by Wandering Words. What if instead of judging a book by its cover, its author or its prestige, we judged it by its opening lines?
Pick a book off your shelf (it could be your current read or on your TBR) and open to the first page
Copy the first few lines, but don't give anything else about the book away just yet – you need to hook the reader first
Finally… reveal the book!
Also, for the rest of this month, I'm going to provide the link to our poll if you haven't taken it yet. This is us trying to be better for you guys and so you can see more things you'd like to. Click here to take it!
Chantel will be in purple. 
Caidyn will be in blue. 
---
I wake up. 
Immediately I have to figure out who I am. It's not just the body – opening my eyes and discovering whether the skin on my arm is light or dark, whether my hair is long or short, whether I'm fat or thin, boy or girl, scarred or smooth. The body is the easiest thing to adjust to, if you're used to waking up in a new one each morning. It's the life, the context of the body, that can be hard to grasp. 
Every day I am someone else. I am myself – I know I am myself – but I am also someone else. 
It has always been like this. 
---
This week I have chosen a book I have read and recently hauled. It's a book I enjoyed at the time I read it, but I don't know how I feel about it now. It does feature a unique queer character which makes things more interesting. Also, I just found this out, but this book is going to be adapted into a film. That should be interesting. 
Were you able to guess it? If not, that's okay. 
My choice this week was…
Every Day by David Levithan
When I first read this book, it was a roller coaster ride. I really enjoyed this in the moment and it was really well written. I believe if I re-read the book, my issue would be with the fact that A, our main character, basically stalks this girl they met. The one-sided romance likely wouldn't be as compelling now. I was far more interested in A's story and the day to day they experience. If you've noticed, I'm using gender-neutral pronouns because A doesn't have a set gender. Instead, they are in a different body each day, but they still retain their personality. I'm not sure if that will translate well into a film, but we'll see. 
---
It is important, when killing a nun, to ensure that you bring an army of sufficient size. For Sister Thorn of the Sweet Mercy Convent Lano Tacsis brought two hundred men.
---
Yes, just one line. Amazing, right? I'm being succinct with my choice. Plus, if I added more, I'd have to go into more depth and it would wind up being too long. I think the first line is an amazing hook, anyways.
This author has grown increasingly more popular as he's published more. For the past few years, his books have gotten to the semi-finals in the fantasy category. His first series caused a lot of controversy, and he's currently one of my favorite authors. Both Chantel and I have read his stuff. So… what is the book?
It is….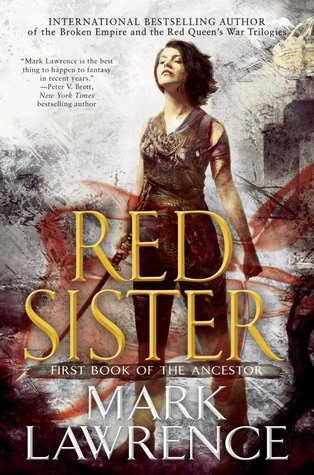 I adore Mark Lawrence. He's definitely a favorite author and this is the first book in his newest series. It was published the day after my birthday last year. (The next book is being published on my birthday in 2018.) This is his first book in a brand new universe and his first female MC. It's gotten tons of rave reviews and I'm going to get to reading this soon.