Another tag granted to us by Emma at Thoughts of a Brown Eyed Girl! We've been hammering out things tonight, then we remembered this one! The rules are pretty simple.
Answer the questions below.
Credit the creator: Jamie from A Little Slice of Jamie.
Tag at least five people or don't if you can't come up with five.
Have fun!
Caidyn will be in blue.
Chantel will be in purple. 
---
1. Where do you typically write your blog posts?
My room or at school in either a random classroom or the cafeteria.
I live in a studio apartment, so I write my blog posts in my apartment. 
2. How long does it generally take you to write a book review?
Depends. But, I try to at least write the outline for my review the same day I finish it while things are fresh in my mind.
I try and write my review within 24 hours so my thoughts on it are fresh. I make bullet points in a doc and them form a review from there. 
3. When did you start your book blog?
We started back in March!
What he said. 
4. What is the worst thing about having a book blog, in your opinion?
I think that the "worst" part – and I take this to mean the hardest part, really – is keeping up with everything. I'm bad at keeping up with the people we follow and all that. I feel bad about it, but I keep up as much as possible with my schedule and it's not enough.
I think the worst part is caring about the number of likes and comments. That's not why we do this, but I think about it a lot. It shouldn't matter and ultimately it doesn't. 
5. What is the best thing about having a book blog, in your opinion?
Meeting all the great people we have who love us even though we sometimes aren't the best with the whole blogging thing.
Being able to talk about books with awesome people and sharing my opinions with them. It's also gotten me back into reading and writing which I can't complain about. 
6. What blog post have you had the most fun writing so far?
My blog post isn't technically a blog post on here. It's a review I wrote for an author I'm not a fan of. And by a review, I mean that I didn't rate it since I never read it but let my opinion be known how I feel through Michael Scott gifs.
There are a lot of posts enjoyed, but my favorite was a review of Blue Is the Warmest Color where I talked about the movie and the graphic novel. I was able to intertwine talking about a film and a book which I really enjoyed. 
7. What is your favorite kind of post to write?
Is it bad that I love doing rant reviews?
5-star reviews. I love gushing about a book. 
8. When do you typically write?
Whenever I get a chance. Aka really early in the morning, late at night, or sometimes when there's nothing going on at work.
When I get off work and the weekends. 
9. Do you review every book you read?
Nope! I try to, but not always.
Since I started the blog, yes, before then no. 
10. How do you write your book reviews? With a cup of coffee or tea? With Netflix? Cuddled with your fur baby?
I don't have a set way to do it. By the time we really got into this blog, my fur baby passed away. Sometimes I write with a beer or wine. Sometimes with coffee. Usually, I have a movie or TV show going in the background. Right now I'm watching a really bad horror movie because…. IT IS HALLOWEEN.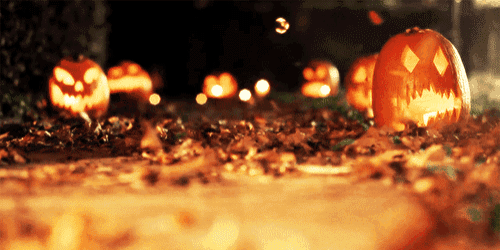 I just type it on my computer. Nothing special. 
11. When do you write your book reviews? Right after finishing the book? Two weeks after finishing the book?
Skipping this one since it's repetitive.
Right after I finish the book, but I'd like to take time to process the book and write a review that isn't word vomit. 
12. How often do you post?
I don't have a set schedule. If I finish a book, I usually post a review. If I don't read, no reviews.
At least once a week with First Lines Friday, other than that nothing is set in stone.