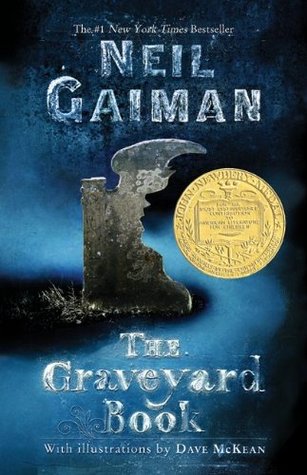 (Caidyn)
4/5
The first time I happened across this book, I listened to it in the dead heat of summer while at work. Gaiman, as always, narrated it and it was just fantastic. My ultimate thought of it was that it was good, but not excellent. This time around, my second time with this book, I thought that it didn't quite hit the point it wanted. But that ending gave a great impact.
The general plot follows our main character, Nobody "Bod" Owens, from infancy to teens. Each chapter of this book is loosely connected by Bod and some other characters. They're more like vignettes or Love Actually. They're loosely connected, yet there's a great pay off in the end. I forgot that midway through the book and got super worried that it wasn't all going to come together like I wanted to.
Every single character is sweet and kind, honestly. I loved them all, except the villains. It really felt like a genuine middle-grade book. The way I always describe middle-grade is that the kids have a huge issue that they have to face, yet they're not alone like in YA. There are adults there to help them. And that, to me, is far more realistic. This book is totally like it. There's a big problem, but Bod isn't abandoned to figure it out on his own.
Super glad that this was my first spooky read of the season. It was really fun to revisit Gaiman's world and to experience a master storyteller, even if I didn't think it was perfect.