Another week has gone by. Is time going by fast for anyone else? For us, it certainly has. Now, let's get onto the post.
Caidyn will be in blue.
Chantel will be in magenta, just to shake things up. 
---
To me, it's fall already. I don't care about it. Right where I am, it's already getting to be about 50 degrees in the morning and just barely getting to 80 through the day. It's fantastic. And, fall, to me, equates to horror or anything a little spooky. I'm trying to get books straight in my head to read since I just want to read so much.
This isn't a book I'm going to read, but probably one of my favorite horror books of all time. (And one that Chantel won't touch with a pole.) I haven't peeked yet, but I think I know what you chose. 
The terror, which would not end for another twenty-eight years — if it ever did end — began, so far as I know or can tell, with a boat made from a sheet of newspaper floating down a gutter swollen with rain.
Since you guys were, as far as I know, good about indulging me putting down the first full page of a book, I'll stop with the first sentence/paragraph.
And, I'll give you some hints.
It's being made into a movie.

The movie is a remake.

It involves a common phobia.
Honestly, that's more than enough since it's a very iconic book and movie that frightened children across the world.
It is….super predictable…
IT by Stephen King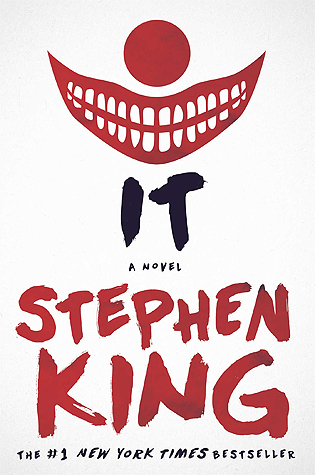 I used the cover of the book that I own since it's deliciously creepy. This tome clocks in at almost 1200 pages. Ridiculous. Literally, it's a doorstop. I could use it as one if I didn't have a great respect for it. IT is Stephen King's best book that I've read so far, even over Carrie or The Shining or Pet Sematary, all books that I consider some of my favorites in the whole world. I mean, this book has it all. Romance, horror, mystery, coming of age, sci-fi, fantasy. Seriously. This little book holds it all and it's just one of my favorite books in general.
And now, we move away from creepy clowns to something far more fun.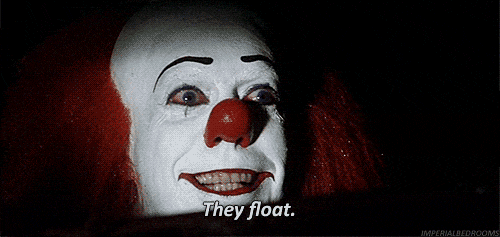 (I had to.)
---
"This is it, you guys," I say as we approach. "Everything we've always dreamed about. This is our Holy Grail." 
Charlie, Jamie, and I stand before it side by side, tears in our eyes as we admire its indescribable beauty. 
"Our Disneyland," Charlie adds, her pink hair blowing slightly in the warm breeze. 
Jamie nods as a wide smile spreads across his face. "Our Graceland. I can't believe we're actually here." 
We each take in a deep breath. 
"Are we truly worthy of so much awesome?" I ask.
Charlie takes a brave step forward. "Yes. We are." 
When we say it, it's a whisper, like the name itself is to be cherished: "SupaCon." 
---
So, I've already read and rated this book and it's a book I absolutely loved. One that Caidyn bought for me for my birthday because he's amazing and knows me so well. The color I chose matches the cover of this book. 
Just based on the opening lines, it'd be a book I'd get turned off from almost right away.
Are you ready for this? 
Are you ready? 
Are you
Ready? 
Queens of Geek by Jen Wilde
The reason I chose Queens of Geek this week is today is the first day of Rose City Comic Con! This will be my second year going to RCCC and I'm very excited. I already went to Wizard World Portland back in February and met John Barrowman. He totally made me blush, but damn that man is charming. Anyway, I'm really excited to go to Comic-Con and see some panels and buy a whole lot of shit. Trust me, there might be a haul. I felt like Queens of Geek brought out my love for Comic-Con and it's a book that I related to. This book was absolutely written with me in mind and that's why I loved it so much. There is amazing representation and an adorable f/f romance. So, go check it out. It's a lot of fun.