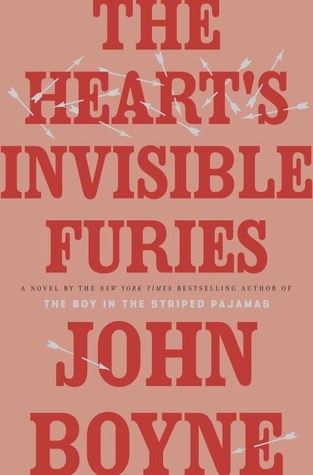 (Caidyn)
5/5
"I remember a friend of mine once telling me that we hate what we fear in ourselves."
Thank you to Netgalley for letting me have an advanced copy for an honest review. All opinions are mine and mine alone. And also any quotes given are liable to change by publication.
I think that this is the easiest five stars I've given this year. Or close to the easiest. I've read five previous John Boyne books, which have ranged from finding it iffy at best to loving everything about it. Even in this book, at the back with the About the Author section, they called this "his most ambitious novel yet." And I wholeheartedly agree.
What strikes me as amazing about this book is that it's a family drama… yet not. It spans from 1945 to 2015, beginning with the birth of Cyril Avery to his unwed teenage mother in post-World War II Ireland. Then, it begins down his life as he discovers who he is and what the world is. It tackles prejudices back then to now in Ireland, at times reading like an Irish history of people who were like Cyril who had the world against them from the start.
Yet, it was also a comedy. There were times where I was laughing so hard I thought I was going to wake my whole house up. The characters had so much humor to them when it could have been such a dark story, lending it to be almost a black comedy since there were so many sad parts mixed in with the hilarity. It read like life does. Happy moments, sad moments, and the moments in between.
All of the characters were amazingly flawed. Boyne never backed down from showing them in certain lights or from having characters make comments, even about Cyril. He let this be honest, something that I appreciate. I'm pretty sure that I cried over every single character in this book at least once and, trust me, there were a lot of characters given how many decades this book covers.
This book definitely takes the place of my favorite John Boyne book. It was exactly what I needed without knowing I needed it. Admittedly, the only reason I requested this was because I generally like John Boyne. I already know I'm going to buy it. Usually, I just keep the digital copies of ARCs in case I want to reread it, but I know that I need a beautiful hardcover to display in my room.